Digital transformation is a concept that has been around for quiet some time now. A phenomenon that has been impacting all industries such as Banking, Insurance, Health, Consumer Goods and many more.
This transformation is arriving to the African market at a quick pace. In fact, according to Phillip Hattingh, a Sub-Saharan Data and Analytics Leader at PricewaterhouseCoopers: "The landscape has changed; the rapid rise of social media, smart devices, big data and cloud computing has opened up new avenues of potential. Customers are changing too through demographic change, increased expectations and empowerment. Technology and social media are making customers better informed, more connected and more vocal".
He adds also: "The forces at play for organizations are extremely powerful. Digital technology has disrupted the business models of traditional organizations at a rate never experienced before".
Everyone agrees on the fact that with its one billion of population, and following a decade of rapid urbanization and strong economic growth, Africa is in a center stage position and the next continent to target. As a matter of fact according to a recent study conducted by McKinsey, "Evidence of what is to come can already be seen in Africa's major cities, where consumers have greater disposable income, more than half have Internet-capable devices, and 3G networks are up and running. Significant infrastructure investment—for example, increased access to mobile broadband, fibre-optic cable connections to households, and power-supply expansion—combined with the rapid spread of low-cost smartphones and tablets, has enabled millions of Africans to connect for the first time with a prediction of 300 million new smartphones being sold in Africa in the decade ahead".
This increases the responsibility of African companies and urges them to start thinking about adapting to the upcoming changes.
This leads us to a list of questions commonly asked by Sales Leaders and other decision makers within African companies:
Why do companies in Africa need to be part of the digital transformation ?
As mentioned in the introduction, African consumers have greater disposable income and greater purchasing power and they are more demanding. That's why, companies have to be ready to get the right products at the right place at the right time when the customer is willing to buy it. With the innovative digital solutions available on the market designed to improve the Sales and Distribution processes and resolve issues in logistics such as the lack of control over the distribution routes, African companies need to start thinking about making the necessary changes to their processes.
We already have an ERP to manage our processes, isn't that enough investment in IT ?
An ERP is complex tool that deals with most of the company aspects,  but it lacks the Sales and Distribution aspects. In fact, Sales and Distribution are the closest departments when it comes to managing the company's external relationships with its customers and final consumers. IT has evolved. It is adopting a mobility approach to satisfy mobile employees' needs and it is now possible to get such mobile solutions at fair prices with a great return on investment.
Why should the Sales Leader be the one driving this change within the company?
Most companies evolve around Sales results and KPIs and companies objectives are mostly to increase Sales and reduce costs. With digital Sales and Distribution solutions on hand, the Sales Leaders can allow their team to be more productive, more efficient and most importantly be well equipped with all needed data in one place (customer order history, customer detailed information, digital catalogue, visit calendar, etc). Such digital solutions can also reduce wasted time and therefore reduce costs.
Moreover, the sales leader has the necessary power and influence to drive this change and would be the first to reap the benefits from applying such a strategy.
Why are lots of companies still applying a 'Wait and see' approach ?
Companies are still afraid to apply a digital Sales and Distribution strategy because they are afraid of the resistance to change that could be faced from their employees especially if the change would impact their usual daily tasks and processes such as using paper-based purchase orders, invoices, etc. This is a wrong approach because the sooner the companies invest in the digital transformation, the sooner they can start benefiting from the collected data and start making stronger decisions. The 'wait and see' approach will only result in them being left behind.
Why is this approach important for African companies ? To my knowledge, this transformation was designed for Western companies
As mentioned in the introduction, customers behaviors in Africa are changing considerably as they are more demanding. That is why such transformation is not restricted to western countries, it makes sense and it is necessary in Africa as well. With the world's globalization, consumers have access to the same technologies and tend to have the same needs and behaviors. That is why companies in Africa need to be able to deliver results according to their customers and consumers expectations by aligning their strategies and processes with the new trends and changes.
Concretely, what actions should I undertake for my company to be part of this digital Sales and Distribution transformation ?
The first thing to do is to identity which processes need to be improved within the company and to absorb new business models rapidly. Then, companies have to adopt a pilot phase approach where they start by applying a digital transformations to a certain number of employees in the same department or to a certain number of business processes and see the results. If the transformation is successful, then the approach can be  propagated to all business processes which require improvement.
An example of an action plan that should be implemented by a company to join the digital revolution is mentioned in the article " DIRECT STORE DELIVERY : TOWARDS A SMART DISTRIBUTION MODEL" published by Valomnia.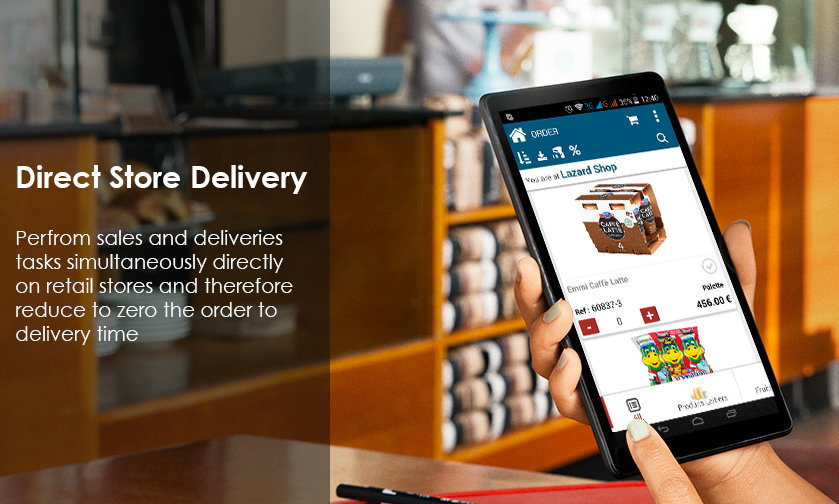 To conclude, the digital transformation is an engine of economic growth for countries with strong emergence; therefore, companies need to jump on the train and adopt this new trend before getting left behind.
This transformation, certainly, comes with risks and unpredictable changes in the environment due to continuous innovations and disruptions, but adopting a "wait and see" approach and being too conservative and too predictable can only allow competitors to gain a considerable competitive advantage.