To address the ever-changing challenges of sales productivity, companies have to think about new methods and tools to optimize their sales reps performance. Business owners are aware that the key of good and effective sales is to have a smooth and timely communication with sales force. And what tool can offer such efficiency better than a mobile app! Valomnia has developed mobile and cloud solutions that helps you exchange information with your sales team, so they move deals down the pipeline at record speed.
In case you are still not sure about starting with Valomnia Solutions, here are the top advantages that differentiate it from other Sales Solutions.
1. Detailed Order Taking, Invoicing and Payment Collect
When it comes to sales process, taking-orders and closing deals in real-time is a key-changer. Valomnia offers an interface that allows your sales reps and van sellers to speed up the sales process. The solution helps generate orders, pre-orders and invoices via mobile devices and assign different attributes (payment method and status, delivery status, amount of the order, etc.). Even in off-line mode, sales rep and van sellers can execute sales tasks and synchronize data later, when online.
Negotiate, take the order and close the deal right away! NO wasted time, NO lost sales opportunity!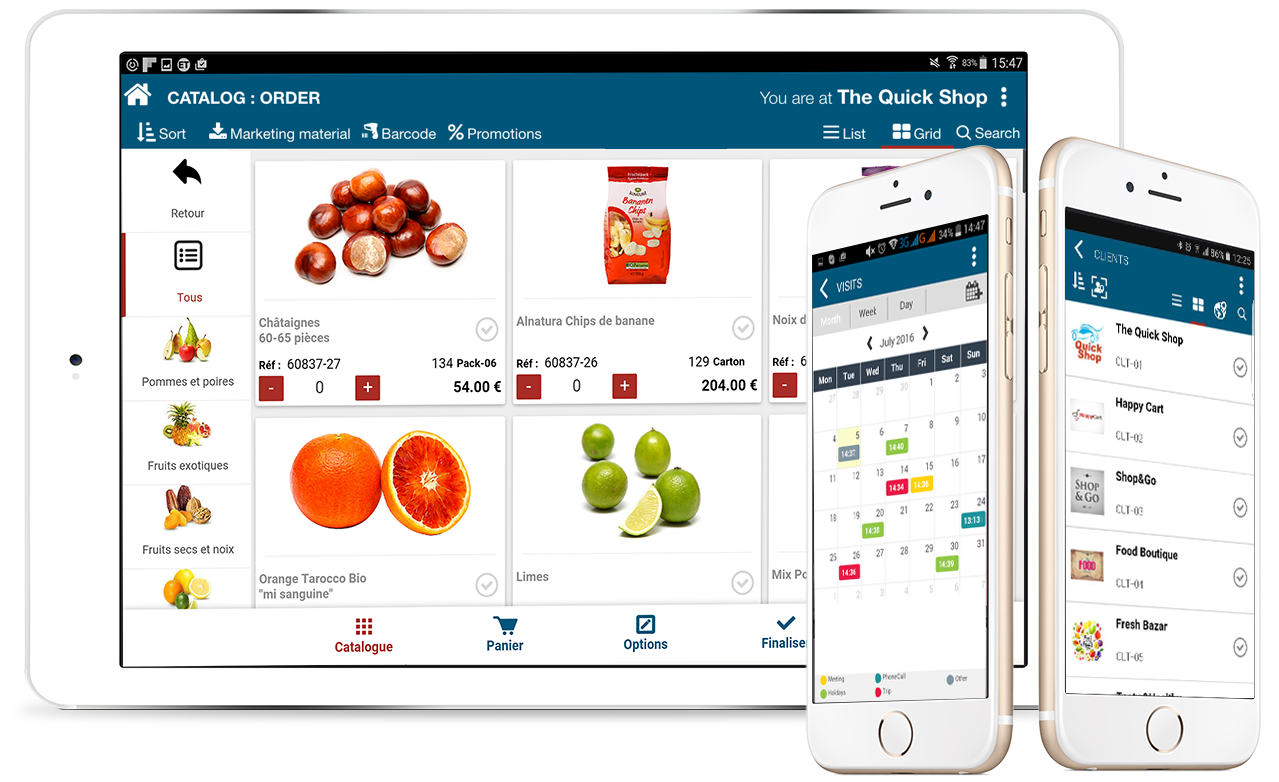 2. Flexibility and Simplicity
The challenge of using Sales application is how user-friendly it can be. Valomnia solutions enhance user experience by providing a flexible, simplistic and easy-to-use application:
Easy integration with any Information System
Valomnia solutions offer suitable connectors for your ERP and/or CRM so you can automatically synchronize your deliveries, products, inventory and promotional offers on Valomnia app with your enterprise data.
Intuitive user-experience
Thanks to a clean and effortless design, Valomnia app conveys its capabilities easily and clearly. You do not need any manual to figure it out, everything is clear and ready to use.  Whether in the field, at a meeting, in the van or in a store, your orders, comments or reports can be submitted in a fingertip.
A quick set up
Apps in general do not require technical expertise compared to desktop softwares. In fact, you can have your products and customers list on your mobile device in a blink of an eye, then start using the application right away.
3. Mobile CRM for Field Sales Team
Customer Data Analysis can reap significant rewards for your company sales, marketing and customer services operations. Luckily, Valomnia has designed a modern, simple and easy-to-use interface where you can access, in real time and from anywhere, detailed information on customers' contact, GPS location, visits planning, delivery routes, purchase history, buying preferences and concerns. Either from the mobile device or the back-office, you can add then sync these information. This is a useful and handy feature to manage and analyze customer interaction and data along your customer life cycle, which will help you implement more effective sales strategies and take informed decisions.
A bird eye view permits to resolve any bottlenecks correctly and expand business quickly.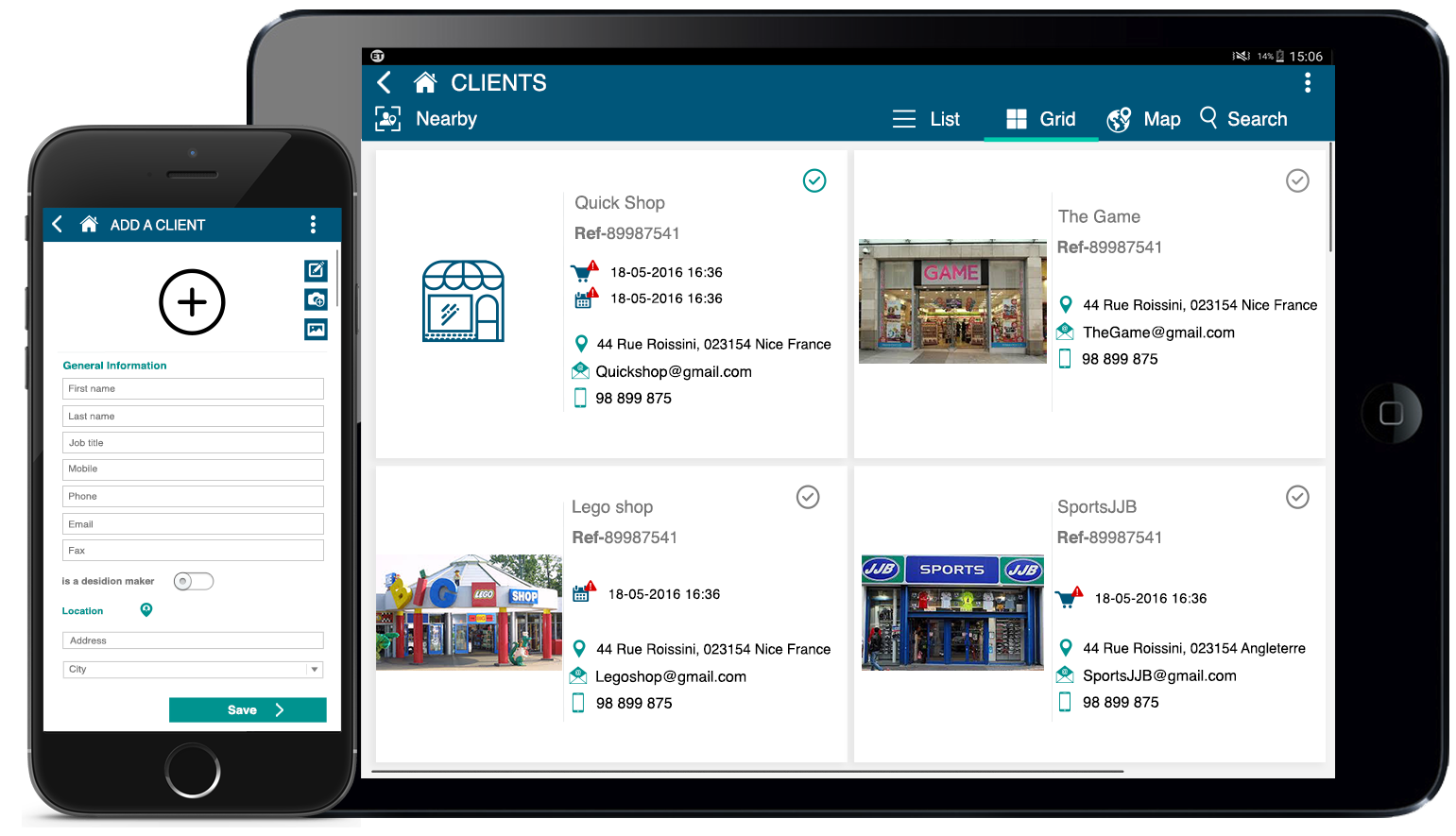 4. Empower Your Brand Image
A strong connection with customers starts with attraction. In today's Sales, first impression is important for a positive lasting image. And what is better than impressing customers with customized, attractive, yet professional, presentation?  Valomnia gives you a beautiful product display thanks to its interactive digital catalog with high-impact glossy pictures, and detailed information that highlight your products details and fabric materials with all color and size declination.
Showcasing your products with such refreshing way makes you as impressive and persuasive as never.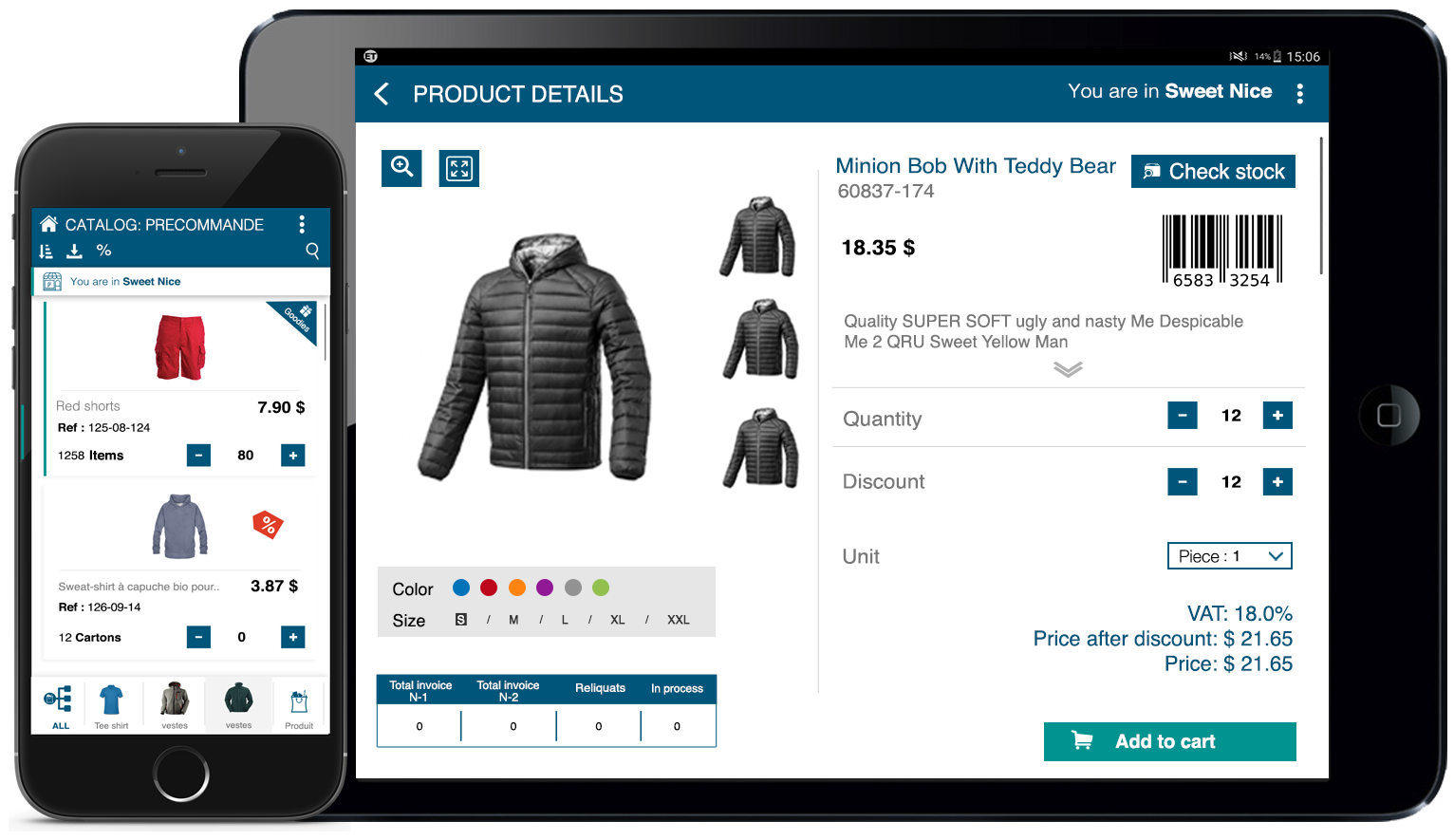 5. We lead you to Success
Making your mobile application experience profitable should not stop on developing a good interface. It is also on the support and assistance you get. At Valomnia, we share with you our competence and expertise , so you reach a high level of proficiency and solution understanding.
We assist you 24/7
A team of solution-oriented experts dedicated to give you the suitable answer for your need throughout the journey.We listen very well to your requirements and specifications, then we turn it into resolutions.
Bug fixing
The Solution Setup
Any Technical help you need
A reactive production team that ensures the overall performance of your solution
We give you the solution clues
With flexible and cost-effective training sessions, Valomnia gives you the opportunity to train and educate your teams on Valomnia Solutions, helping them developing valuable know-how to improve work performance . Either by phone or on-site, individual or in group , you will benefit from:
Real-world training and solutions customized for your business
Lower training costs
A consistent learning experience
We help you reach your goals
To facilitate the elaboration of the change, especially when it comes to Sales and Distribution automation, a team of experts accompany you along the entire process, giving you accurate and complete advices to help you reach your strategic objectives.
Sales and Distribution experts to enable the innovation of your entire Sales Operations
Experts to assist your team in the good use of technological devices
Experts to adapt our solution with your business needs
It is the era of Mobile !  And the Sales Automation Market is a battleground between a lot of creators. Yet, at Valomnia we believe that "Creating great mobile experiences is more art than science". Making an app that serves the different needs, with advanced features, but most importantly user-friendly is the ultimate challenge.
Think about getting the right sales application to improve your sales process and equip your sales force with a high-performance tool that will enable them to focus on what they do best: Selling ! The more they sell, the more money you gain!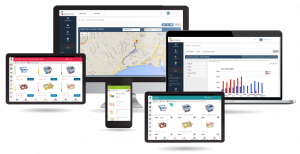 As an internationally oriented company, Valomnia has developed several references in UK, Belgium, Australia, USA and France since its creation in 2010.