The concept of BYOD is not new. Numerous researches had treated it profoundly, exposing the benefits and advantages as well as risks and threats related to data security.
Opinions varied between North America and Europe. North American protagonists were highly excited about this concept. Whereas, the European decision-makers were more skeptical.
So, why this topic has popped up again ?
The BYOD is, again, a hot topic because of today's risks and challenges. Several reasons have made the BYOD a healthier movement than ever.
The expansion of Mobility
Mobility is the catalyst of BYOD. With 4 billion mobile devices all over the world, the mobile is omni-present. Thus, organizations should benefit from it.
Reduced Costs
Taking the example of organizations with 50 mobile sales reps/deliverymen whom they are looking to equip with solutions to manage field sales. The new business applications support devices with highly developed Android and iOS versions. For this category, the average cost of a smart-phone is around 200$ as the expenses on hardware equipment alone is around 10.000$ without including the application development cost (which is, generally, 20% of the material cost). Other organizations opt for rigid devices such as the PDA (Personal Digital Assistant) : an over-priced investment ( around 1500$/device). Hence, the investment on equipment may be a serious impediment on organizations business processes improvement , and would prevent them from reaping the fruits of these new business solutions.
Several SAAS Solutions and Cloud sources on the market
For professional use, there is a multitude of applications and cloud sources giving the possibility to connect through mobile devices.
Referring to a study conducted by Forrester, the global market of business process applications will attend 169 billions of dollars in 2017. By 2020, the SaaS will be the main application deployment model, generating more than 50% software total income.
Enhanced productivity and employees satisfaction
Thanks to the BYOD, employees have the possibility to create their own work space and integrate their preferred applications and tools in the devices they like. A study conducted by the AMAO* revealed that for companies adopting this approach , the rate of productivity and customer satisfaction have drown a remarkable growth around 20% and 15%.
Valomnia is the best associate of BYOD
Valomnia is a B2B mobile application for sales and distribution. It consists of a platform for the mobile users driven from a web interface (back-office), and run by the managers associated to the BYOD adoption.
Easy Data control
A successful BYOD project requires a close follow-up of users' activity: the log-in time and place, the type of information they access, and the devices they use. In fact, Valomnia solutions guarantee a strict control over the autonomy range and data access. The mobile user will be able to access the data needed to accomplish his job only, nothing more. Users and roles assignment may be disabled, and account related data may be recovered.
Valomnia Insures Security
Valomnia offers Cloud platforms of data storage certified and highly secure with the possibility to secure mobile data added to any type of internal communication of the app thanks to IBM mobile First.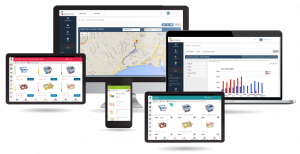 As an internationally oriented company, Valomnia has developed several references in UK, Belgium, Australia, USA and France since its creation in 2010.
Valomnia solutions have the needed flexibility and functionalities to embrace European problems and adopt to the emerging countries specificities.
*ANAO: Australian National Audit Office