In order to control supply chain costs, and following digital trends, manufacturers and retailers are ready to replace traditional delivery men by drones, robots or autonomous cars.
Before we get there, there are some distribution models based on less fanciful technologies able to optimize the supply chain, to reduce logistic costs and to boost sales. The Direct store Delivery model (DSD) consists on bypassing the distribution plant by forming  a closed loop circuit from the production point to retailers. It is typically used,amongst others, by agri-food manufacturers. The picture below illustrates the model.

The benefits of the DSD model
Regain control over procurement process and avoid stock shortages.
Control the merchandising and maximize its effectiveness.
Eliminate intermediary costs and take control of margins.
Get closer to customers' demand and enhance responsiveness when changes occur.
Improve customers' experience.
Why opting for DSD?
With this model, you can build a strong and a long-term relationship with retailers, thanks to van-sellers who are the main brand representatives.
With retailers, 80% of sales volume  are made by 20% of products commonly called  FMCG (fast moving consumer goods). If these products are not on shelves, you can imagine the dramatic impact on turnovers.
This impact may also affect the market shares of brands that will be replaced by competitor ones (customers' second choice brand ) due to a stock shortage.
Get a faithful image and state of the point of sale: the position of products, external factors, actions made by competitors.
Is the DSD suitable for your business?
you can take advantage of the model if :
A major part of your clients are retailers with small outlets and a limited storage surface that need frequent procurement.
Order volumes are quiet important (equal to a truckload)
Delivery time is limited because of the nature of products (perishable goods, fast moving goods)
Products with high monetary value leading to security issues or risk of theft (jewellery, wine, luxury products…)
Products that require a certain know-how in terms of Merchandising.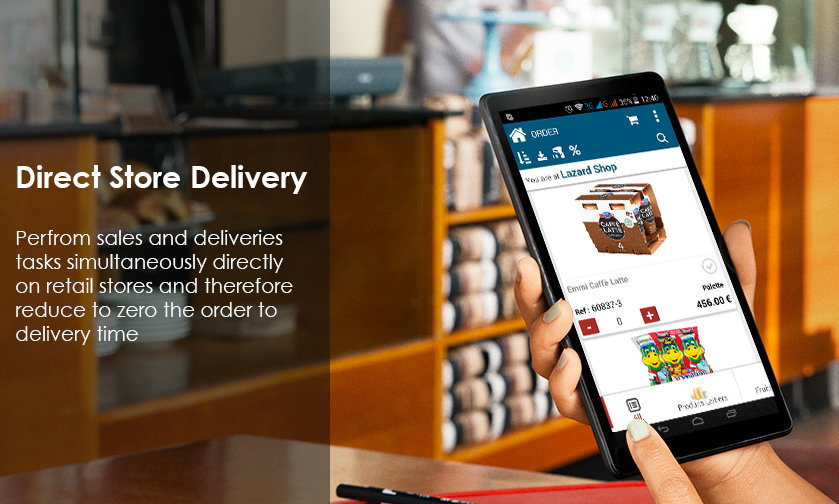 How to implement a DSD Model?
Planning necessary resources
An assessment of existing resources is necessary in order to measure financial, HR, technological requirements and forecast mutation costs. Managers need to ask the following questions:
What are the technological solutions that help driving change and  are compatible with the existing ERP/IS ?
Are the employees able to handle a twofold responsibility: sell and deliver?
What are the costs associated with frequent deliveries knowing that it is a long term investment (For FMCG industry DSD aims to reduce out of date products and provide fresh products by bypassing intermediaries)?
Are your clients (partners) averse to changes ?
Adopt an integrated technology
The second level is to adopt a technological solution integrated with the main management systems by forming a connected technology environment. This significantly minimize discrepancies in the data generated. DSD requires a flexible solution that offers mobile features, since trucks act as mobile warehouses. The solution must allow all the users (van-sellers, managers) to obtain real time informations and to interact in order to speed up processes and improve the quality of decisions made.
Defining roles and responsibilities for each employee
DSD sales and distribution processes need to be adopted by all the company members. There must be, then, adequate and well-defined tasks in order to assign each role effectively.
Sales Reps
Sales Reps must amongst others visit POS, make sales offers, conduct studies, take orders, etc. Having access to marketing supports, promotions and knowing the stock situation in real time empower salesmen during negotiations and increase the number of qualified visits.
This is the main specificity of DSD. In fact, in addition to deliveries to POS, delivery men must perform all tasks related to sales reps.  They must also optimize their journeys by following optimal routes and taking into accounts traffic constraints (fluidity, speed limits, storage space in the truck). A geolocation system and an integrated calendar help to easily find Points of Sale and sell in an effective way.
From their offices, managers must be able to control in real time, orders deliveries and stock situation. They must also be capable to a act if needed and monitor employees' performance. They have to collect data about purchase frequency in order to plan Marketing actions, launch new products, and avoid stock shortages. This allows managers to make more accurate forecasts in terms of customers' demand.
Adjust and Reset continuously
Data analytics serve as a reference for performance assessment. Managers must detect productive actions and try to generalize them. They must also address non productive ones.  There are several advantages coming from DSD such as flexibility. DSD is a modern way of distribution able to respond to current requirements if well implemented.
The combination of the right technologies and the right processes allows companies to benefit from a successful DSD model. DSD intelligence is due to the balance between the 3 Rs:

Rapidity, Real-Time and Responsiveness.
Valomnia DSD: The Direct Store Delivery Solution
Valomnia DSD is a Mobile Cloud application designed to improve van-sellers & merchandisers' productivity and help manage teams in the field by centralizing Real time informations in a unique platform.
Valomnia DSD has several features for routes optimization, POS geolocation, digital catalog, integrated calendar, check in & check out, visibility over the stock on-board in real time.
The solution offers autonomy to van-sellers and allow them at the same time to keep in touch with their managers (back office), thanks to live reporting features, and real time access to price and promotions updates.
It is possible to work off-line, to synchronize data later on and to conduct configurable satisfaction & Merchandising surveys.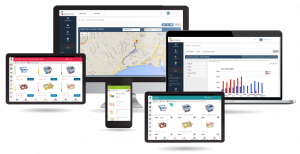 As an internationally oriented company, Valomnia has developed several references in UK, Belgium, Australia, USA and France since its creation in 2010.